It has been a couple of dark, raw weeks. 
I have been soul searching.
I honestly have found it tempting to go into a bunker somewhere and stay away from the mess that is our world right now; tempting to hide from the pandemic and the riots and protesting that began with the death of George Floyd. 
But in our family this is not an option. Bob and I and our three kids are on the same page: Black Lives Matter and SILENCE IS VIOLENCE. 
Yes I usually include a recipe at the end of this post. You can hit the recipe tab and find a bunch of them.  But it would be wrong to ignore what's going on around us. 
Like so many others, I'm feeling that everyone should use their platform, whether big or small, to speak out.
If we want the world to truly change, we all have to join forces together to make it happen.
We need to demand reform around policing and systemic racism.
Racial injustice is REAL whether you feel it on a daily basis or not.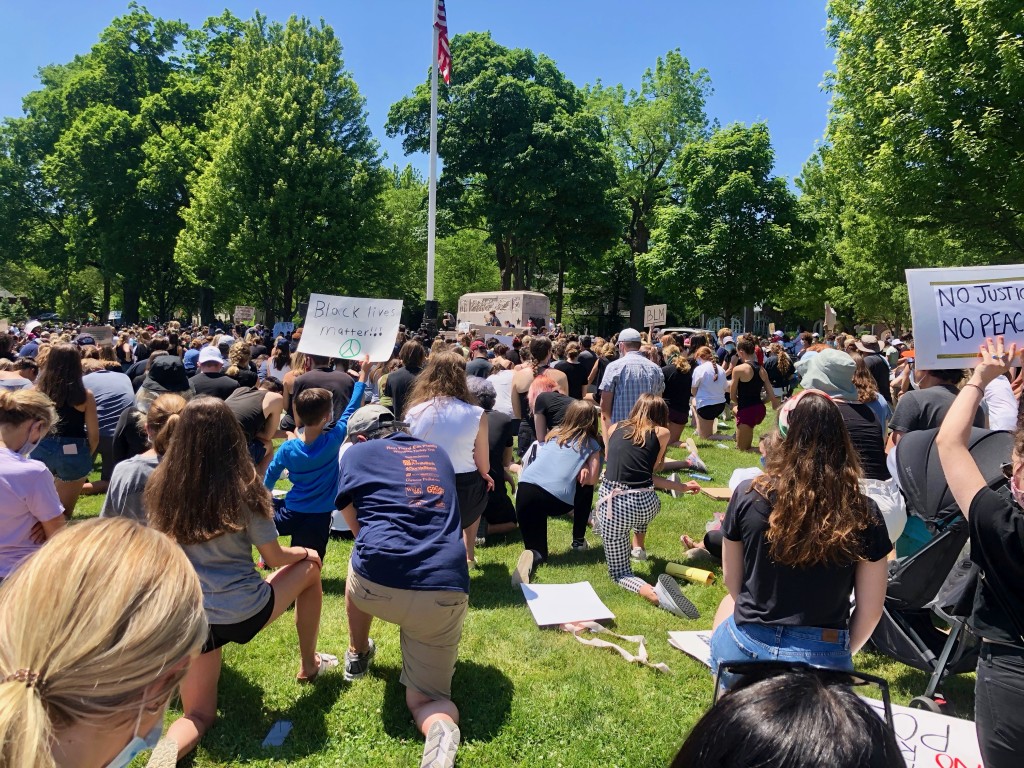 My youngest daughter and I gathered with thousands of others recently. The peaceful protests are not only sending a message that you care, it's also accomplishing real things. 
There's a social media post that's gone viral highlighting some of the defining movements of change and action in the wake of Floyd's death.
It begins with, "So what has protesting accomplished?"
So far, among other things… within the first 10 days of protests:
Minneapolis banned use of choke holds. Their city council voted to defund police and fund community investment & safety measures.

Charges were upgraded against Officer Chauvin and his accomplices were arrested and charged.

Dallas adopted a "duty to intervene" rule that requires officers to stop other cops who are engaging in inappropriate use of force.

New Jersey's attorney general said the state will update its use-of-force guidelines for the first time in two decades.

In Maryland, a bipartisan work group of state lawmakers announced a police reform work group.

Los Angeles City Council introduced a motion to reduce LAPD's $1.8 billion operating budget.

MBTA in Boston agreed to stop using public buses to transport police officers to protests.

Police brutality captured on cameras lead to near-immediate suspensions and firings of officers in several cities (i.e., Buffalo, Ft. Lauderdale).

Monuments celebrating confederates were removed in cities in Virginia, Alabama, and other states.

The street in front of the White House was renamed "Black Lives Matter Plaza."

Military forces withdrew from D.C.

Democrats in Congress are proposing police reform

Local officials are moving to ban chokeholds, no knock warrants and tear gas.

Mississippi lawmakers are drafting a resolution to change the state flag which features a Confederate battle emblem.

In our town, The Chicago Sun-Times joined other national publications and media outlets in capitalizing the words Black and Brown when referring to culture, ethnicity or community of people.

Today the President will sign a modest police reform order.
There's been a real shift and an awakening. But it's only a start. 
With all eyes on police yet another Black man was killed by an officer last Friday in Atlanta. Change is slow to come, but I'm staying hopeful.