cuban turkey grilled with mojo
Jump To Recipe
Ready for a fun twist on a traditional meal?
It's Cuban turkey grilled with mojo and I promise- once you taste this delicious creation, you won't go back to your old ways!
We've been making it for years, even when it's NOT Thanksgiving… 
And now we've updated the recipe!
Seriously… who knew a GREAT thing could become even better!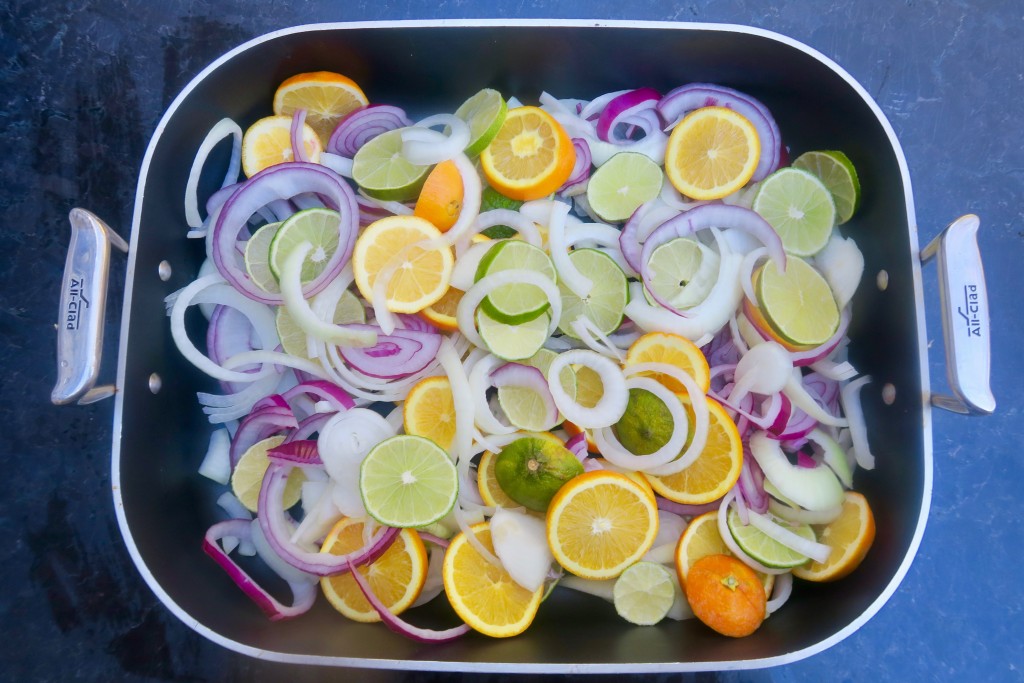 This turkey recipe is so easy you won't believe it. 
It's our Thanksgiving Day tradition!
Begin by creating a bed of citrusy HEAVEN – sliced limes, oranges and onions –  in a heavy-duty roasting pan like this one. (Remove the roasting rack- you want the turkey absorbing all the layers of onion and citrus flavors.)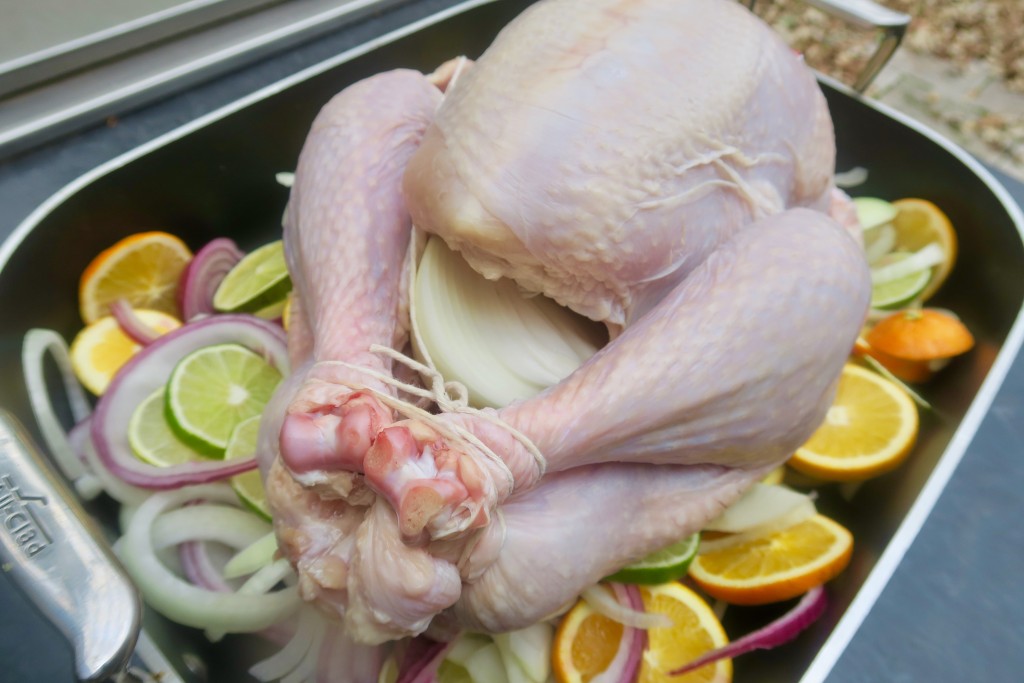 Cut one of the onions into quarters and stuff it into the turkey cavity. I always call for organic onions because I can taste the sharp difference.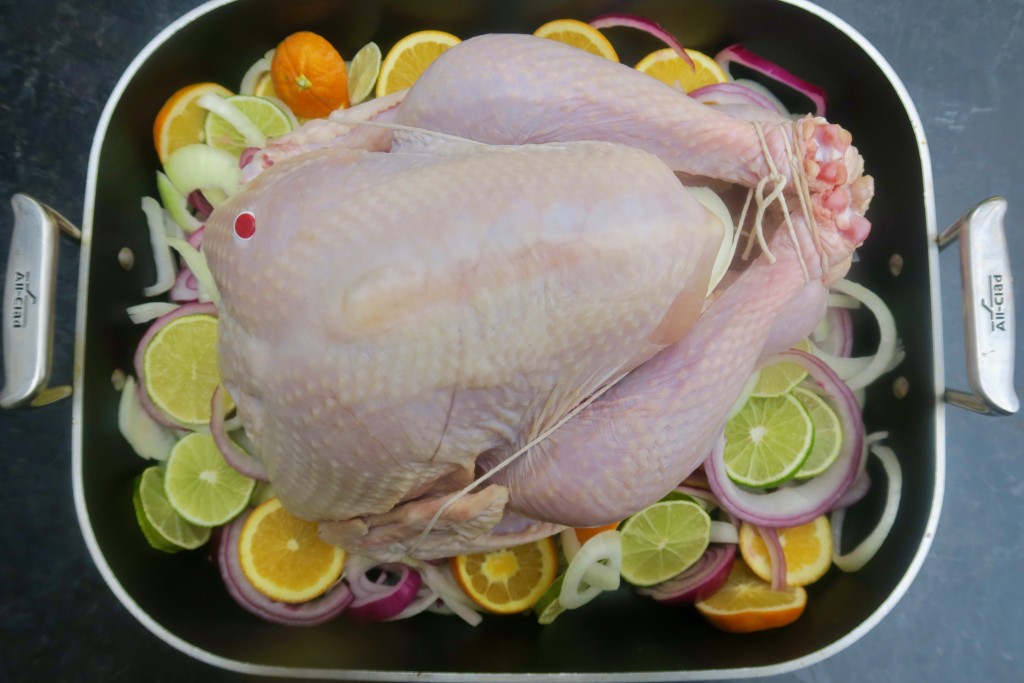 It's not absolutely necessary to use string or twine to hold the turkey together, but I like to because when it's cooked it looks so much better! 
You can buy the twine alone or even a kit to help you string and baste.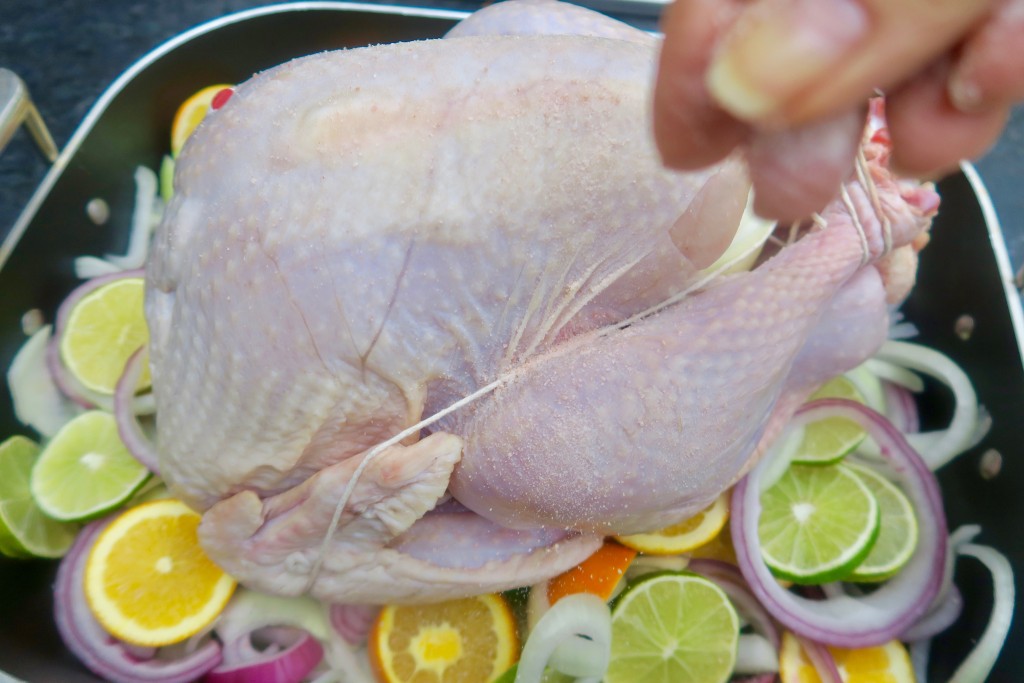 Then you salt. My favorite salt is pink Himalayan. I use this so much I buy it in bulk and refill my shaker.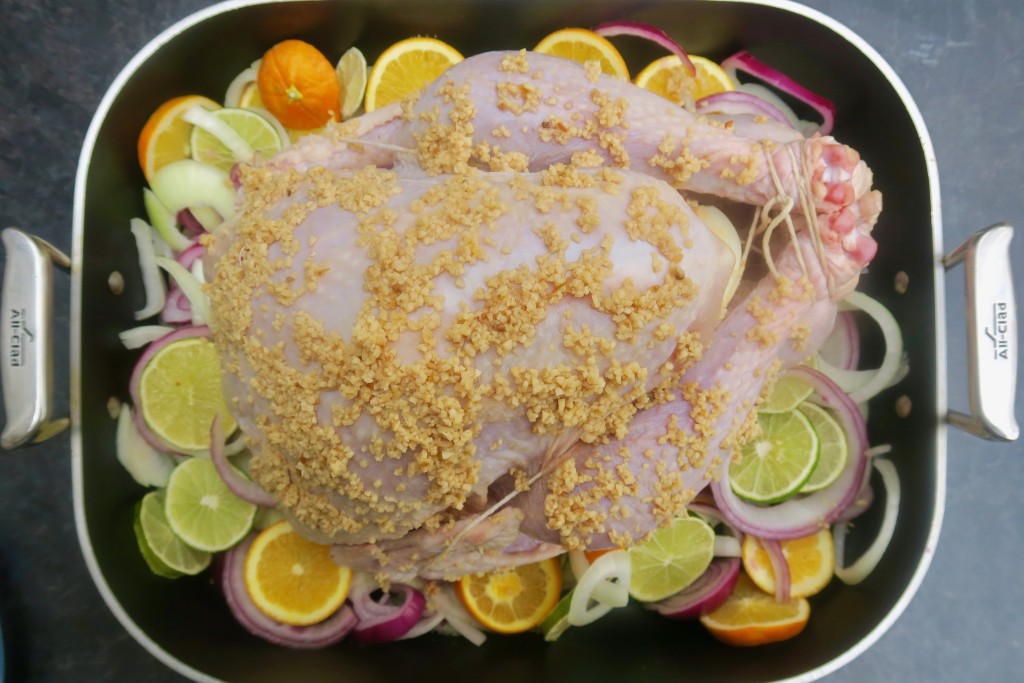 Then comes the good stuff that's going to make your house smell so good.
GARLIC GALORE! You will spread as much or as little garlic as you want covering every inch of your turkey! 
I use this organic garlic.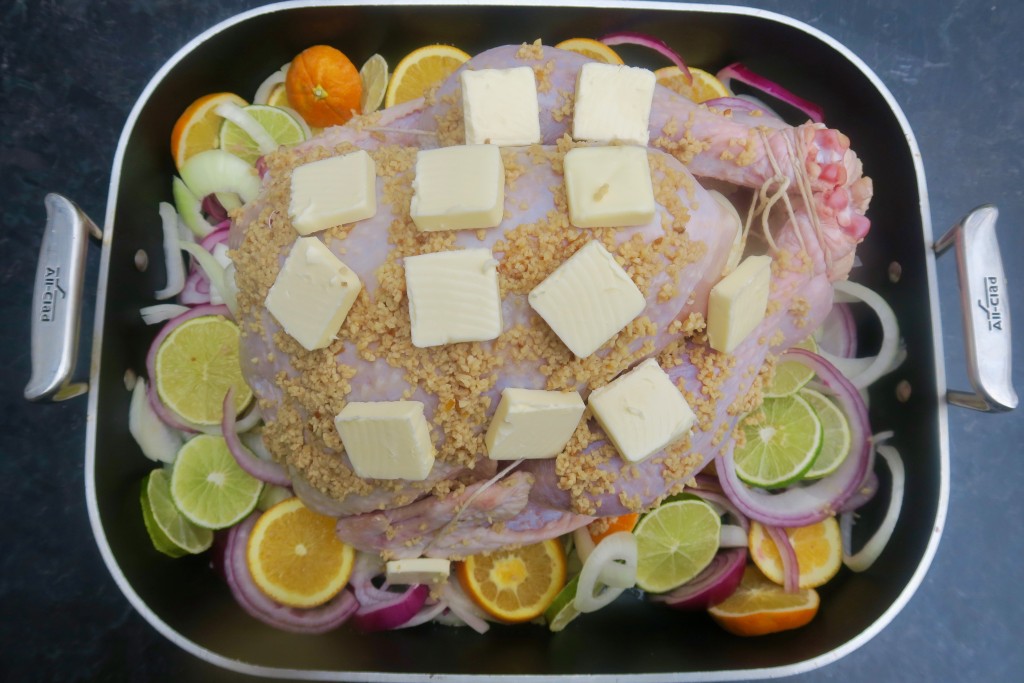 Slice up your stick of butter into 12 pats and lay them over the garlic.  I use organic salted butter.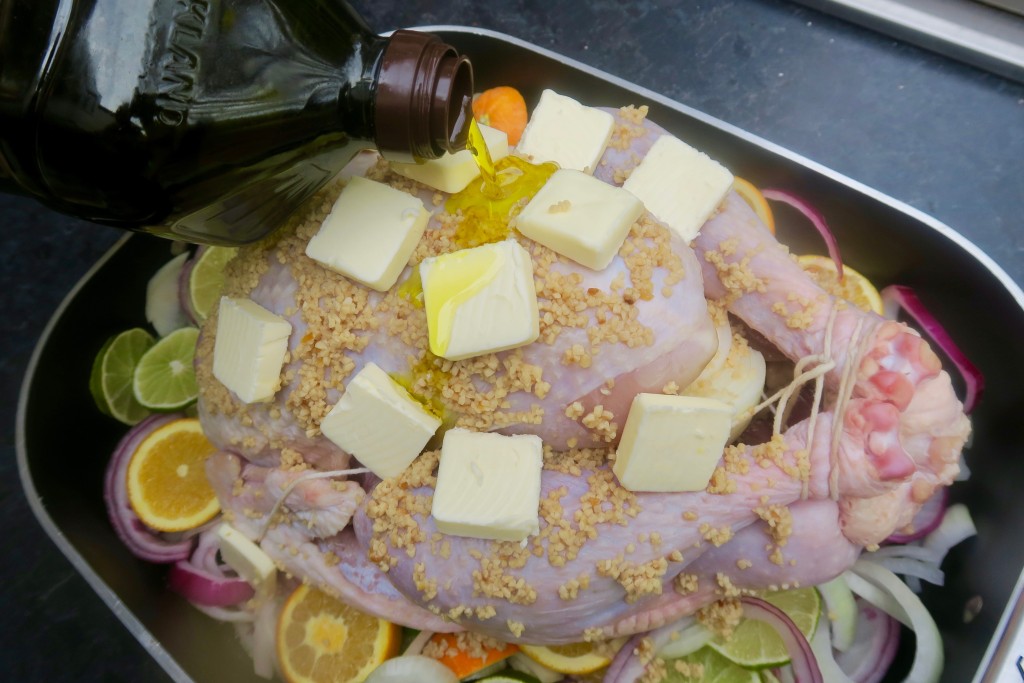 And then drizzle olive oil over your whole creation. 
This will keep the foil from sticking to the turkey plus your high quality extra virgin olive oil will put the final touches on this amazing flavor!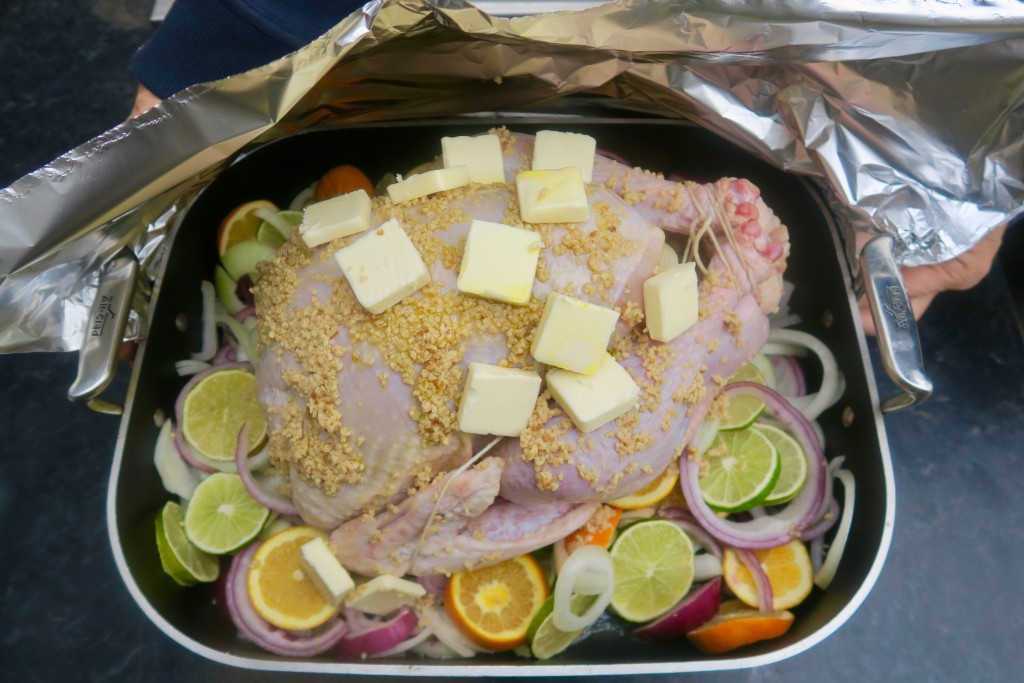 Next you will build a tent around the roasting pan by using two pieces of heavy duty aluminum foil on each half of the pan, creating a tent that can be opened at the center.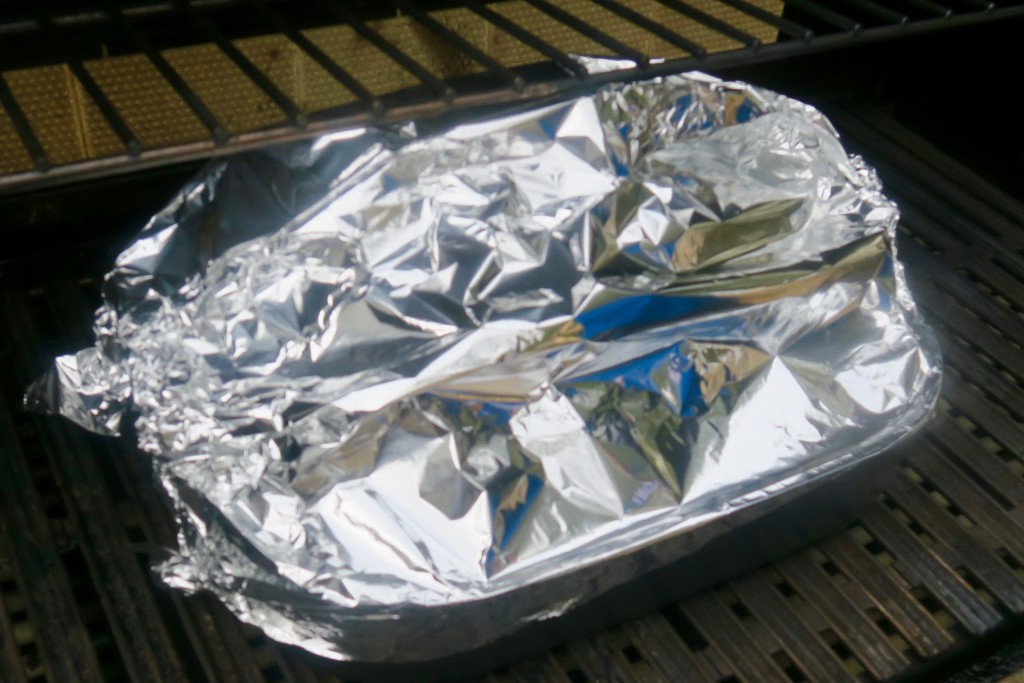 Place this baby on the grill!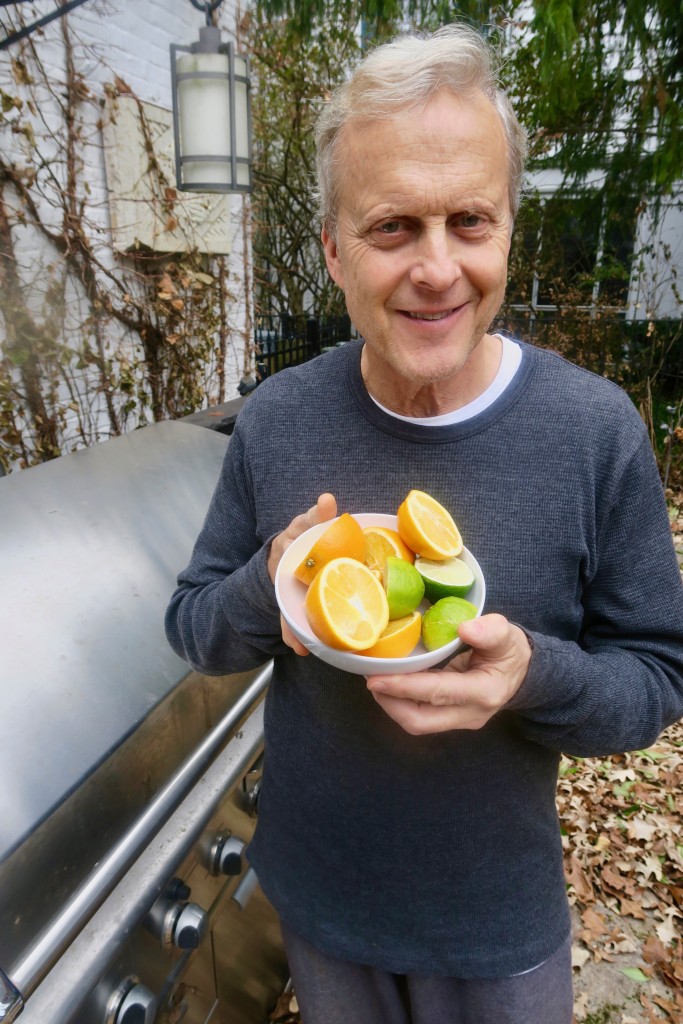 And then the real work begins! 
Here's my husband, Bob, ready to take over for the next few hours.
The job: opening up the aluminum foil tent and squeezing fresh orange and lime juice over the turkey every 45 minutes or so!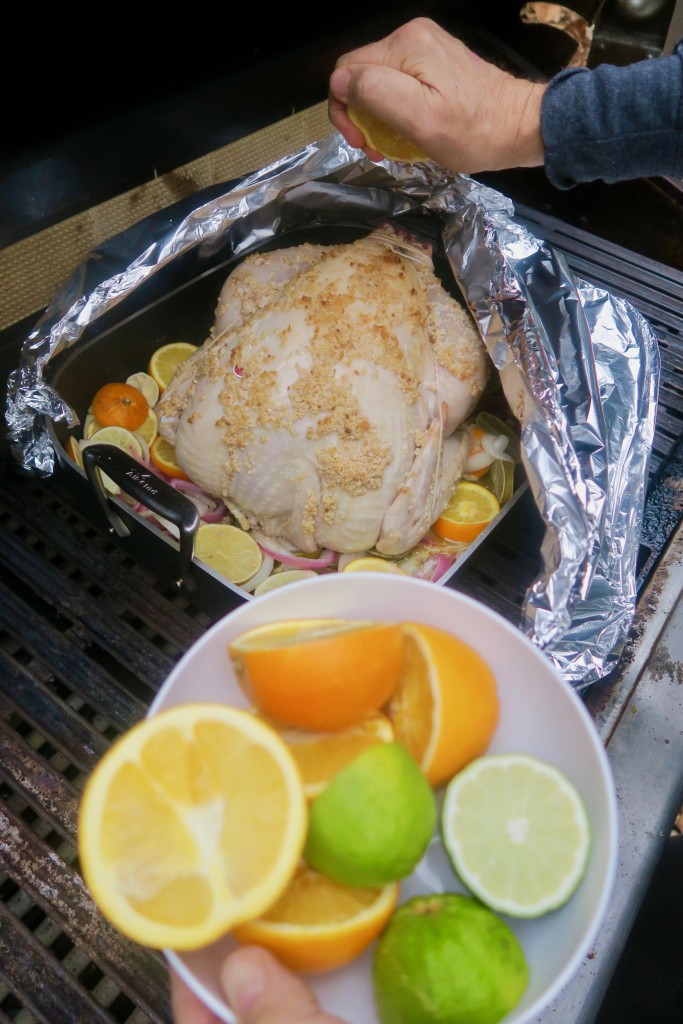 I'm just going to say he's VERY GOOD at this job! Especially when it's cold and I don't want to step foot outside!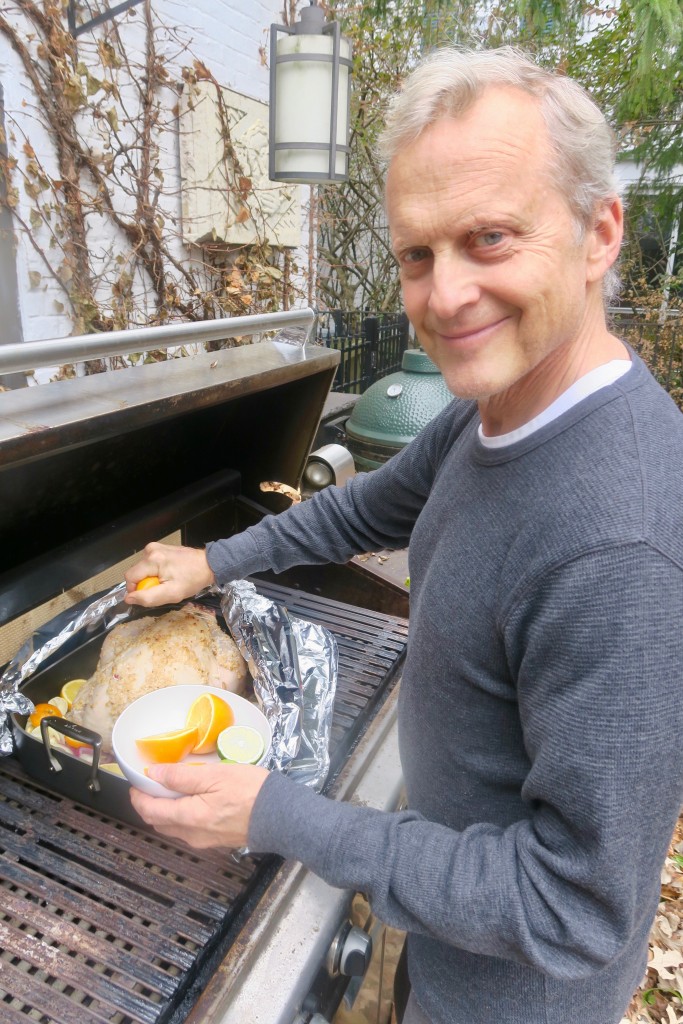 I love that he spritzes with a smile on his face! LOL!
Of course for extra flavor every time you open up the tent you can use a turkey baster to drench the mojo in the bottom of the pan over the turkey.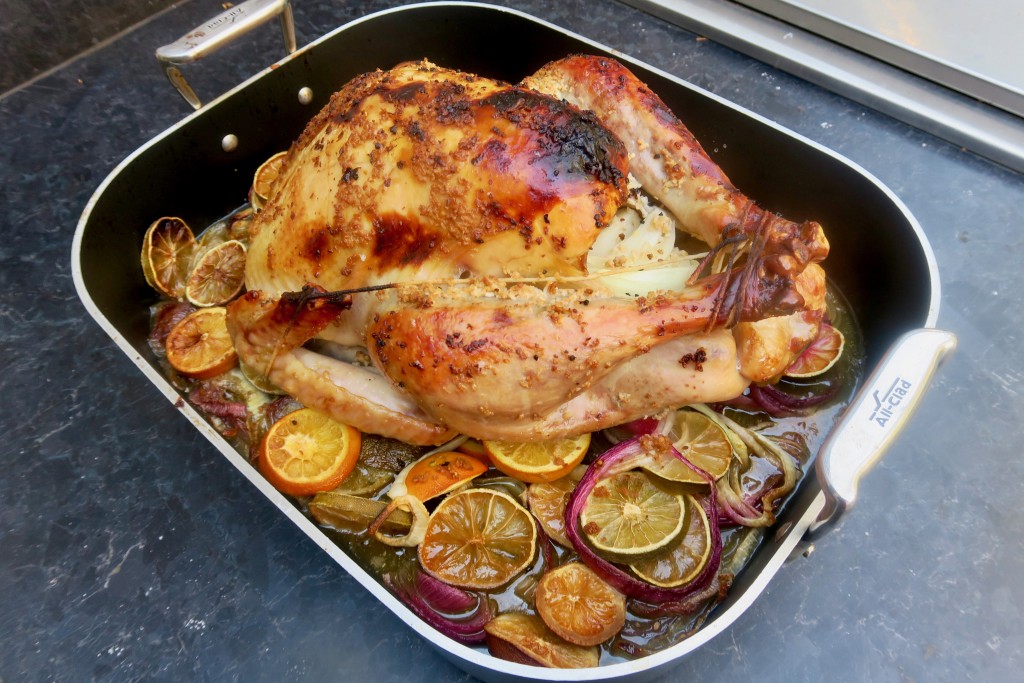 Other turkey accessories you might want to consider:
You don't have to spend much on a digital meat thermometer. I use this inexpensive one. If you prefer you can get the waterproof version of it.
Use turkey lifter forks to place the fully cooked turkey onto a carving block.
I love this bamboo carving board because it's large and inexpensive. But you can go all out and get a reversible cutting board with juice grooves if you prefer.
After all that work you want your turkey sliced beautifully, and I can only do that with an electric carving knife. There are so many choices out there but this is the one I've been using for years. 
Wishing you and yours a tremendous meal!
I leave you with links to some of my favorite side dishes.
Crispy Brussels Sprouts with Garlic, Pepper and Pecorino 
Cheesy Cauliflower Mash with Roasted Garlic 
Oven Roasted Brussels Sprouts with Shallots & Pistachios  
Shaved Broccoli with Toasted Walnuts & Garlic
Comments
3